Shenzhen, China, October 31th, 2017 – Huntkey, a global leading provider of home automation and power solutions, has prepared some Halloween gifts for its followers on Facebook.
At Huntkey, we are huge fans of Halloween, and are very excited to announce the first annual Halloween with Huntkey activity! To celebrate this amazing festival, Huntkey is inviting all of our friends to participate in a game to to get a "treat"!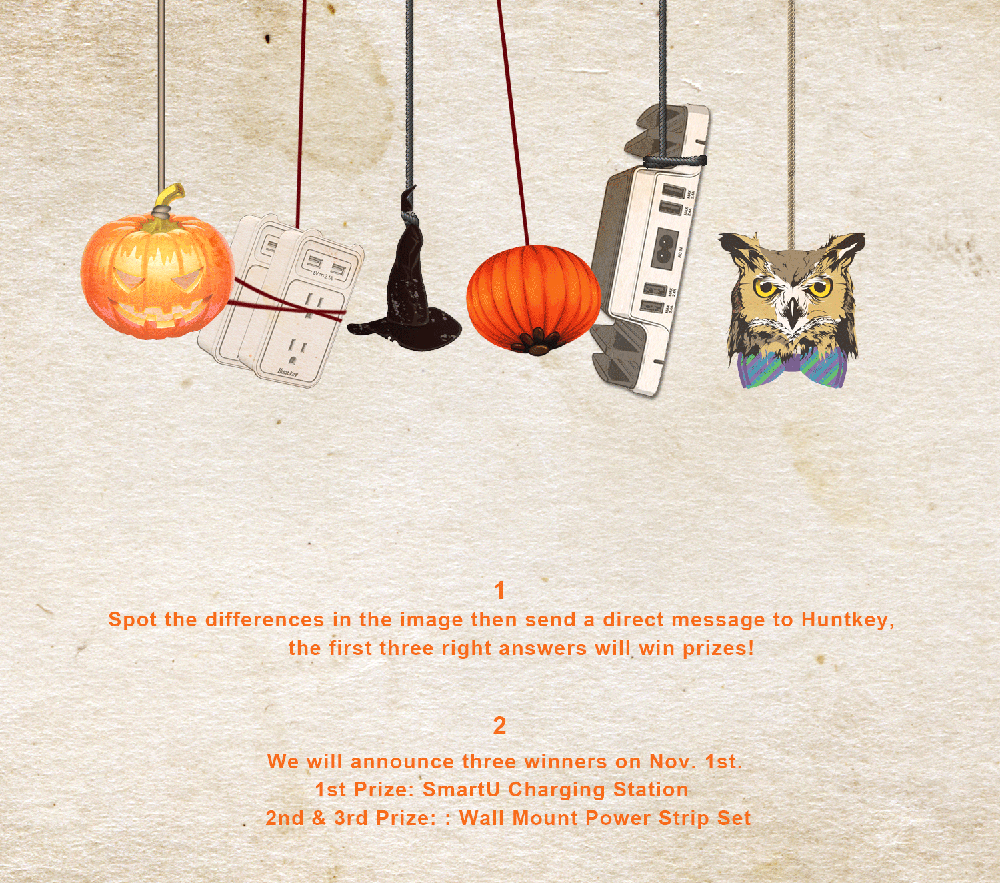 During this Halloween with Huntkey, we will be giving away our super handy wall mount power strip SMD407 set and SmartU charging station to the USA market. Click these links to get more information about the gifts:
https://www.amazon.com/Huntkey-Outlet-Outlets-Charging-Portable/dp/B01ALHQPI2/ref=sr_1_6?ie=UTF8&qid=1509433786&sr=8-6&keywords=Huntkey
https://www.amazon.com/Huntkey-Charging-Stations-Built-Cables/dp/B01N9LMHXQ/ref=sr_1_4?ie=UTF8&qid=1509433786&sr=8-4&keywords=Huntkey
To be eligible, just follow 2 simple steps!
1)Participate in the "Spot the Difference" game on Huntkey Facebook and sent a direct message to Huntkey to show your answer, the first three right answers will win prizes!
2)We will announce three winners on Nov. 1st.The first prize will win a SmartU charging station, the 2nd and 3rd prize will win the wall mount power strip sets.
Here's the link to our game:
http://www.facebook.com/HuntkeyDIY/

About Huntkey
Huntkey, founded in 1995 and headquartered in Shenzhen, is a member of The International Power Supply Manufacturer's Association (PSMA) and a member of The China Power Supply Society (CPSS). With branch companies in the USA, Japan and other areas, and cooperating factories in Brazil, Argentina, India and other countries, Huntkey has specialized in the development, design, and manufacturing of PC power supplies, industrial power supplies, surge protectors, adapters and chargers for many years. With its own technologies and manufacturing strength.
For more information about Huntkey, please visit:
For more information about Huntkey, please visit:
https://en.huntkey.com/
http://www.facebook.com/HuntkeyDIY/
Contact:
Ferris Liao
+86-0755-89606658
huntkey@huntkeydiy.com