SHENZHEN, China, July 19, 2017 – Huntkey, a global leading provider of power solutions, is introducing its upgraded American standard wall mount power strip SMD607 to customers all over the world. The upgraded one is built with the latest power strip technology, durable and extremely safe for people to use.
The SMD607 is the upgraded version of SMD407. The old one is equipped with 2 USB charging posts and 2 AC outlets. The upgraded version is equipped with 3 USB charging ports, 6 AC outlets and a cradle. It can charge 9 devices at the same time. Huntkey SMD607 is designed with a cat ear shaped cradle ledge, which can hold the device stably while charging.
With surge protection, The SMD607 can provide stable and consistent output currents that safeguards devices from voltage fluctuations, surges and spikes. Meanwhile, with smart IC technology, its USB ports can automatically detect devices to deliver fast charging speed, produced with high quality materials which users can rely on. The body case is made of an ABS flame-retardant material, an opaque thermoplastic characterized by resistance to heat, chemicals and impact. The SMD607 is equipped with an integral copper bar, which can significantly improve product conductivity and durability.
The SMD607 provides unique wall-mounting solutions to users. Aside from one stabilizing post, there is also a mounting screw on its back, allowing users to mount it to the wall without it falling off. The wall mount series is portable with a compact design, which makes it very travel-friendly.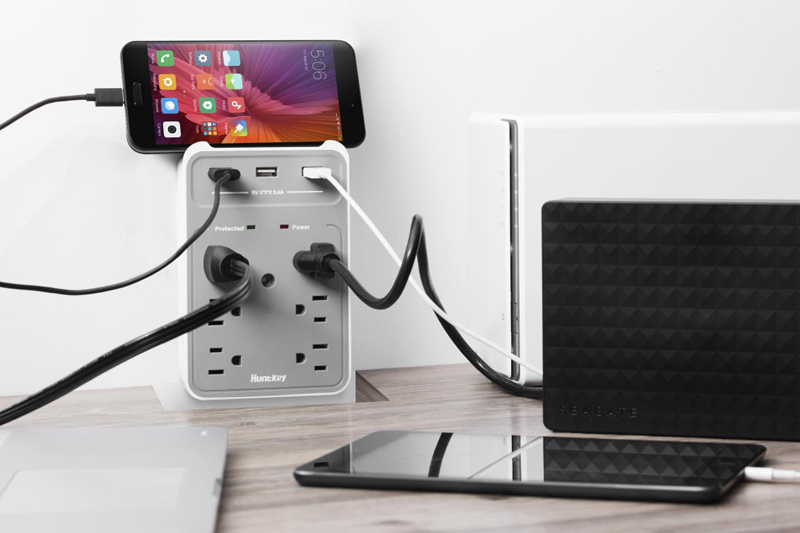 Now, the Huntkey American standard wall mount power strip SMD607 is available on Amazon:
https://www.amazon.com/dp/B06XHBMV8K
About Huntkey
Huntkey Group, founded in 1995 and headquartered in Shenzhen, is a member of The International Power Supply Manufacturer's Association (PSMA) and a member of The China Power Supply Society (CPSS). With branch companies in the USA, Japan and other areas, and cooperating factories in Brazil, Argentina, India and other countries, Huntkey has specialized in the development, design, and manufacturing of PC power supplies, industrial power supplies, surge protectors, adapters and chargers for many years. With its own technologies and manufacturing strength.
For more information about Huntkey, please visit:
http://www.huntkey.com/
http://m.facebook.com/HuntkeyDIY/
Contact:
Ferris Liao
+86-0755-89606658
huntkey@huntkeydiy.com