Source: https://test.smzdm.com/pingce/p/37179/
Huntkey is a renowned company headquartered in Shenzhen, China, with branch companies in the US, Japan and Hong Kong. It has been long providing power strips and surge protectors with multiple types of plugs and sockets across the globe. Now let's take a look at one of its latest released power strips – the Huntkey SV607 smart power strip.
The SV607 is only for China market though at present. From the label on the white box we can know that it is black, with an extension cord of 1.8 meters long. Also some of its specifications are marked on the box.
After unboxing, an elegantly designed and totally black power strip comes into sight. It measures 279mm long, 80mm wide and 28mm high. On the front side, it is integrated with 6 sockets and 4 USB ports controlled a master switch. There is a red indicator light beside the Huntkey logo.
On the back side, there are 2 keyhole slots that allow the users to mount it to a wall or baseboard for easy use.
Its maximum power output can be up to 2500W, which is enough to power almost all the home appliances like TV set, refrigerator, air conditioner, kettle etc.
Take a closer look, we can notice that the sockets are equipped with child-protective shuttles to keep children away from getting electricity shocks.
Four USB charging ports including 2 traditional ports and 2 IQ ports that are implemented with Smart IC technologies which can adjust charging power according to the devices' needs.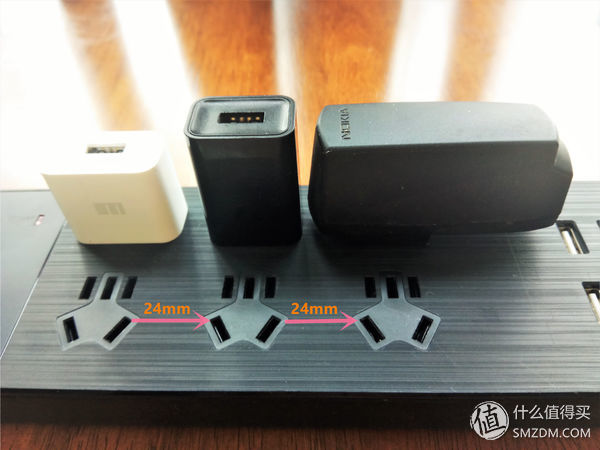 Six widely spaced sockets enable the users to charge multiple devices at the same time easily.
In general, the SV607 is a good power strip that can be widely used at home or office. It is build with high quality components and materials to ensure safety. It combines smart charging technologies with superior craftsmanship. We recommend it to you for replacing your old strips which can wear out over time.