SHANGHAI, March 9, 2018 – Huntkey, a global leading provider of power solutions, officially releases its modular power outlets – the Magic Outlet intended for US market at AWE 2018, one of the world's three biggest exhibitions in appliances and electronics industries.
The Magic Outlet is colored with white and gray outside, featuring one US standard plug on one side, and one AC socket on the other five, which allows the users to simultaneously charge 5 devices. It is created smaller but with high-end components inside, without compromising quality to offer the users an unprecedented charging experience.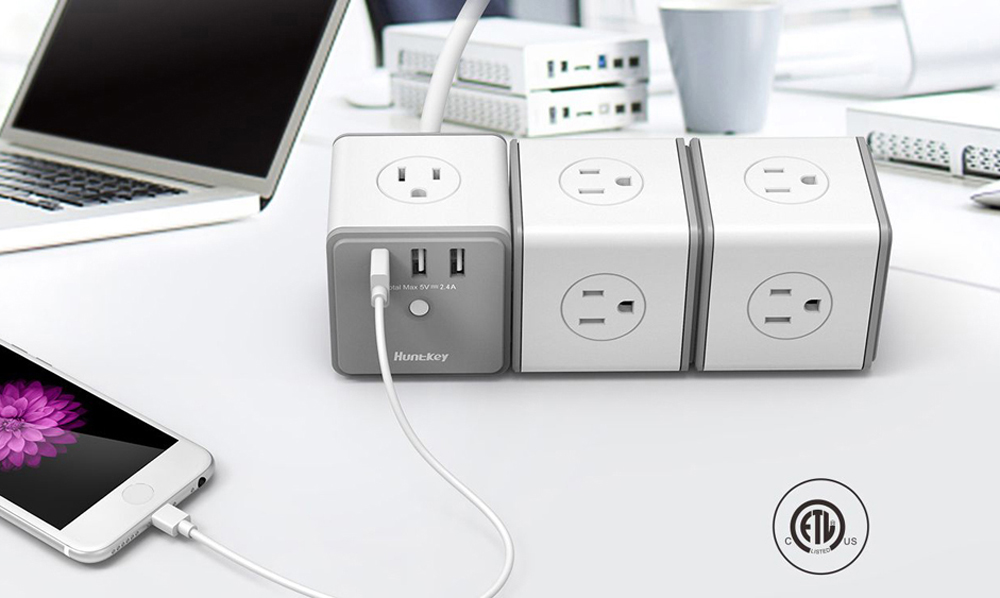 Modular & Portable Design
The Magic Outlet is modular and portable, measuring 2.6 inches long, 2.6 inches wide and 2.65 inches high for easy carry. Owing to its special design, the Magic Outlet can be mounted together like building block for increased functionality. It is one of the best choices for travelers who love to travel as light as possible.
Unbelievably Safe
Equipped with a 380J surge protector, the Magic Outlet is capable of keeping the charging devices protected from voltage fluctuations, surges and spikes. It is integrated with one 15A fuse that can safeguard the charging devices from short circuit or over current damages. In addition, it is built with one integral copper bar inside to enhance conductivity and avoid heat buildup to ensure product safety.
Superior Quality
Body case of the Magic Outlet is made from flame-retardant and environment-friendly material – ABS, an opaque thermoplastic characterized by resistance to chemicals, heat and impacts. Moreover, the Magic Outlet has been strictly tested to meet the US quality standard – the ETL Listed Mark, one of the key proofs of product compliance to the US published industry standards.
Availability
The Magic Outlet has already been listed on Amazon US. For more product information please visit:
https://www.amazon.com/Huntkey-Expanding-Adapter-Protector-Overload/dp/B0060QN0SC/ref=sr_1_6?m=A96RLKIOAYZVY&s=merchant-items&ie=UTF8&qid=1520557846&sr=1-6
About AWE
Appliance & Electronics World Expo is organized by the China Household Electrical Appliances Association (CHEAA). Relying on China's household appliance industry with global attention and the stably-developed household appliance consumer market, AWE has become one of the world's 3 biggest exhibitions in this area. Based on Asian and global markets, AWE will become an industrial event leading the trends of international household appliances.