How many electric devices does a family of three have? At least 9? The number is more striking. According to a survey in 2022, on average, US households have 22 connected devices. Come on! The stationary sockets are nowhere near enough to power all the necessary devices. Then USB power strips are here to help.
However, the market is deluged with different brands and types of power strips. Selecting the right one — safe, efficient, and durable — is a headache for many households. If you struggle to make the selection, then this passage may give you some hints.
Things to Consider Before Buying USB Power Strips
Shoddy or unsuitable power strips might be the household time bomb, especially in a family with children and pets. So, consider the following factors before you purchase suitable USB power strips:
1. Safety
In this aspect, materials are a major consideration. First is housing. High-quality USB power strips can resist strong humidity and retardant. Besides, the housing should be mechanically robust to dampen the hurt from strikes. Traditionally, the materials of USB power strips are PC and ABS. PC plastics have excellent electric insulation, mechanical strength, and retardant resistance but at a higher cost. ABS is more resilient and chemically stable.
Then it is the internal materials. Top-notch copper core should be durable and tolerate heat while maintaining excellent conductivity. Quality USB power strips are heavier, meaning they are well-made and built with better materials. Overload protection is another soothing factor, which will disconnect when an improper power band comes in or overloading situations happen. Finally, If USB power strips and babies stay in the same room, choose the power strips with safety shields to prevent tragedies when babies tuck their tiny little fingers into the holes.
2. Number of outlets
A well-designed USB power strip will leverage the space to allow the most plugs of different types. In contrast, some badly designed USB power strips have multiple plugs that are too cramped to use. Therefore, selecting the USB power strips based on the virtual demands while noticing whether the gaps between the plugs are reasonable.
3. Equipment adaptability
Traditional USB power strips are mostly for domestic use. However, when it comes to powering high-efficiency electronic devices, it will slack on efficiency and might shorten the working lifespan of the power strips and hurt the devices themselves.
4. Integrated control button
An integrated control button is a basic requirement for quality USB power strips to make the switch on or off easier. It turns out to be good for your pocket due to its potential effect to save power.
5. Other details
Other details like the length of the cord, the certification, quick charging support, and surge protection should also be considered.
USB Power Strips for Recommendation- From Huntkey
As the world's leading provider of consumer electronics, Huntkey has been developing its R&D and providing a series of top-notch USB power strips that have received positive market responses. Here name some of them.
SMD 127C
The Huntkey USB power strips cover a wide range of applications. With 15 ports in one strip, the compact and sleek power strip allows high-speed charging, which, for example, can charge an iPhone 13 pro to 50% in 30 minutes when adapted to the USB-C port at the fast charger, 30% quicker than the traditional USB power strips. Besides, it is way safer for people and devices. Like every USB power strip produced by Huntkey, SMD 127C has been through a series of tests, temperature test, crushing test, retention of plug/blades test, and leakage current after humidity test, to name a few, before going to the market. What's more, it has 3480 joules of protection to protect your devices from voltage fluctuations, surges, and spikes.
SMC 307
Surprisingly, the little cube can charge up to 6 devices at the same time. Although compact in size, SMC 307 is able to support quick charging, providing currents of up to 2.4A Max per port, and is compatible with common electronic devices like phones, tablets, and other appliances. Besides, the handful USB power strip is designed for travel, saving the place and weight of the suitcase.
SMD 407C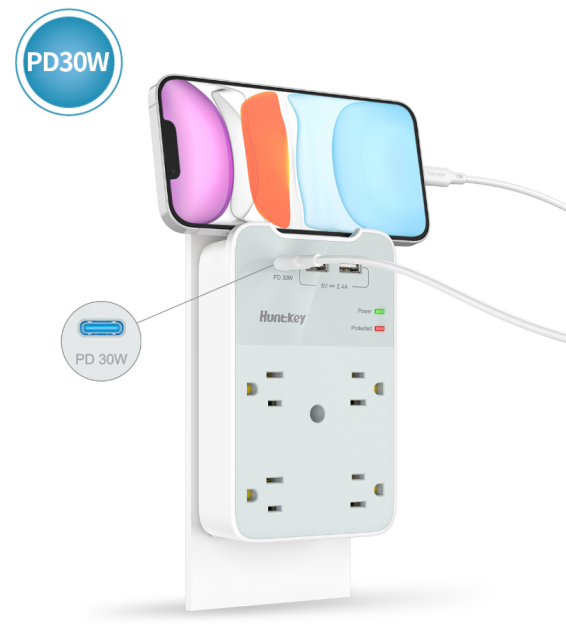 If you are looking for USB power strips that can be attached to the wall, something that can save space and will not cause burdens when you are, saying, doing chores, then SMD 407C can be your best choice. The USB power strip can power up to 7 devices simultaneously. 7-point safety system ensures its high reliability and security. The compact USB power strip can be a helper at home, but it also can be taken for traveling because of its compact design. Moreover, there is a cradle ledge to place the smartphone solidly and stably.
By the way, you don't have to worry about the after-sales issue. All the Huntkey USB power strips enjoy 3 years of service.
Conclusion
Now you may have a clear map in your head when it comes to selecting reliable USB power strips. But if you still wonder who you should turn to for finding it, Huntkey can be your first choice. Decades of experience in this industry have forged our strong research and development, productivity, quality control, and customer services. We have a sensitive nose for the market to estimate the market trend.

So for more information about Huntkey, the professional power strip manufacturer, and our reliable products, you can visit our website.
Reference

https://www.telecompetitor.com/report-connected-devices-have-more-than-doubled-since-2019/
https://www.starenergypartners.com/blog/energy-efficiency/5-steps-to-choosing-the-right-power-strip/