SHENZHEN, China, April 22, 2017 – Huntkey, a global leading provider of power solutions, presented a wide variety of industrial power supplies at Global Sources Electronics 2017, the world's largest electronics sourcing show held every year in Hong Kong.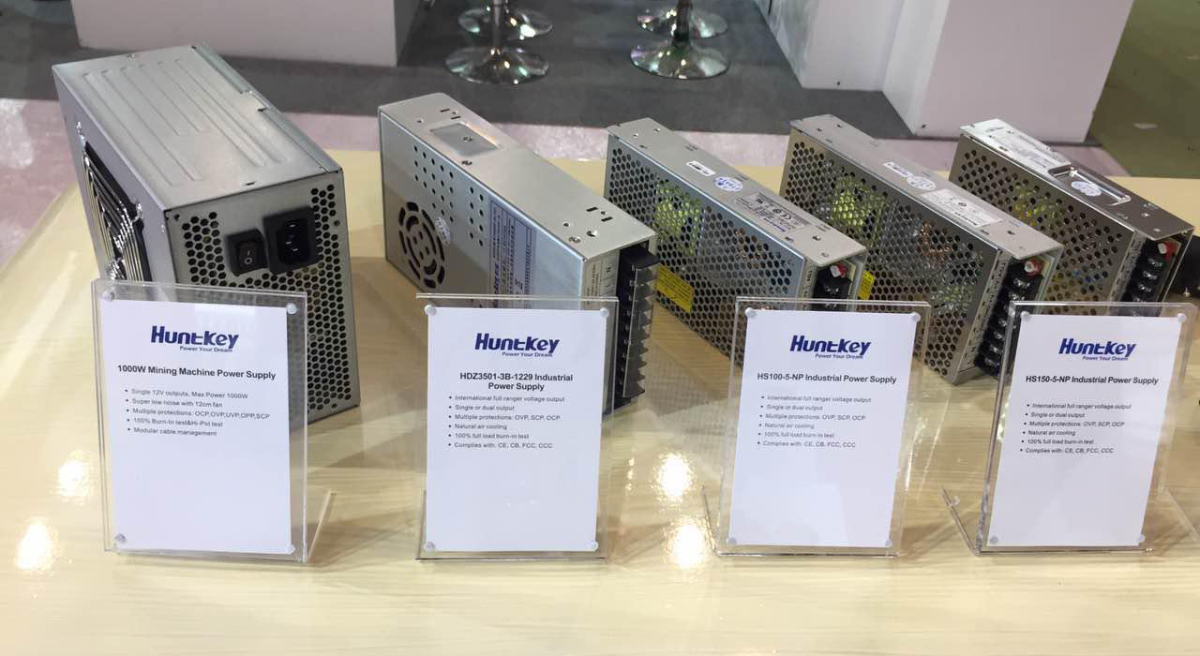 At Global Sources Electronics 2017, industrial power supplies exhibited by Huntkey include 50W, 100W and 150W single output switching power supplies. All these durable power supplies have passed 100% full-load burning test and been accredited with CE, CB and CCC, which can be widely used in industrial automation, LED display, security systems, automatic gates, CCTV, computer projects, etc.
They are highly reliable and energy efficient. With multiple protections including OVP, OCP and SCP, their MTBF can be up to 50K hours. They are designed with numerous excellent heat emission holes, so they can naturally cool themselves and provide soundless performance without using any assistant cooling system.
Model: HS50-5-NP
Rated Power: 50W
Output DV/DC: 5V/10A
Input Voltage Range: 85~264VAC/120~370VDC
Input Frequency Range: 47~63HZ
Operating Temperature: -25~+60℃
Multiple Protections: OVP, OCP, SCP
Lead Free & 3C, CE, CB Certifications
Dimensions(mm): W98*H38*L129
Model: HS100-5-NP
Rated Power: 100W
Output DV/DC: 5V/20A
Input Voltage Range: 85~132VAC/176~264VAC (Switching Mode)
Input Frequency Range: 47~63HZ
Operating Temperature: -20~+60℃
Multiple Protections: OVP, OCP, SCP
Lead Free & 3C, CE, CB Certifications
Dimensions(mm): W98*H38*L160
Model: HS150-5-NP
Rated Power: 150W
Output DV/DC: 5V/26A
Input Voltage Range: 90~132VAC/180~264VAC (Switching Mode)
Input Frequency Range: 47~63HZ
Operating Temperature: -20~+60℃
Multiple Protections: OVP, OCP, SCP
Lead Free & 3C, CE, CB Certifications
Dimensions(mm): W98*H40*L199
About Huntkey
Huntkey Group, founded in 1995 and headquartered in Shenzhen, is a member of The International Power Supply Manufacturer's Association (PSMA) and a member of The China Power Supply Society (CPSS). With branch companies in the USA, Japan and other areas, and cooperating factories in Brazil, Argentina, India and other countries, Huntkey has specialized in the development, design, and manufacturing of PC power supplies, industrial power supplies, surge protectors, adapters and chargers for many years. With its own technologies and manufacturing strength,