Shenzhen, China, April 10, 2017 – Huntkey, a leading manufacturer of power supplies and power solutions provider, will launch the UK standard power strip SUL507 to Amazon of the UK soon.
SUL507 is designed as a simple and clean extrinsic feature. Two USB charging ports share 2.4A of power. Four sockets can charge any electrical appliance, such as computer, laptop, TV, refrigerator, etc. With this SUL507, six devices can be charged at the same time.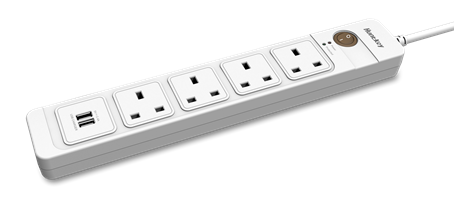 The case of SUL507 is made of environmentally friendly material, which is able to withstand high heat and temperatures. The integral copper bar inside can reduce heat buildup to save energy. This product is equipped with USB overload protection, surge protection and safety shutters. These make the power strip safe for everyone to use.
SUL507 is manufactured with high international standards, in order to guarantee the quality and safety, it has been accredited with CB certifications, so it can be widely used at home or any other places without safety concerns.
About Huntkey
Huntkey Enterprise Group, founded in 1995 and headquartered in Shenzhen, is a member of The International Power Supply Manufacturer's Association (PSMA) and a member of The China Power Supply Society (CPSS). With branch companies in the USA, Japan and other areas, and cooperating factories in Brazil, Argentina, India and other countries, Huntkey has specialized in the development, design, and manufacturing of PC power supplies, industrial power supplies, surge protectors, adapters and chargers for many years. With its own technologies and manufacturing strength, Huntkey has served Lenovo, Haier, DELL, Bestbuy and many other large enterprises for years, and has received unanimous recognition and trust from most of the customers.